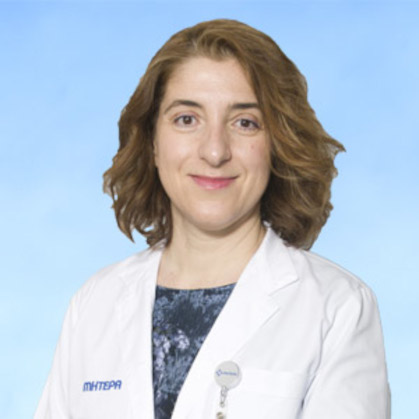 Dr Alexandra Athanasiou, MD, MSc, is Head of Breast Imaging Department and Scientific Director of Breast Cancer Center at the MITERA Hospital, Athens, Greece.
She received her MD degree from the University of Athens and completed her residency in Radiology at the University Hospital of Heraklion, Crete. She obtained her sub-specialization in Breast and Oncologic Imaging in Paris, France, where she was board-certified in 2007.She has extensive experience in these domains, having worked for 13 years in the Oncologic Hospitals Institut Gustave Roussy and Institut Curie, Paris, France.
Parallel to her clinical work, she was an active researcher, being the Principal Investigator in two multicenter clinical trials and co-investigator in six multicenter clinical trials. Her research is focused on novel imaging modalities with emphasis on potential imaging biomarkers as well as on Artificial Intelligence in Breast Imaging. Dr Athanasiou holds a Master's degree in Bio-Engineering with special focus on Physics of Ultrasound from the ESPCI (Ecole Supérieure de Physique et De Chimie, Institut Langevin, Paris France) and an Executive Certificate of Artificial Intelligence in Health Care from MIT (Massachussetts Institute of Technology).
Since 2019, Dr Athanasiou is member of the Executive Board of EUSOBI and regular member of its Annual Conference Program Planning Committee. In 2022, she was appointed Chairperson of EUSOBI International Relations Committee.
She is Section Editor of EURORAD, member of European Society E-learning subcommittee and regular member of the Faculty of European School of Radiology. She has contributed as member in the Breast Scientific Sub-committee of European Society of Radiology for more than 3 years and is the Breast Subcommittee Chairperson for ECR 2023.
She is the author of five book chapters, 46 indexed articles and is a regular speaker in national and international courses and conferences.