EUSOBI Contrast-enhanced Mammography Course
DECEMBER 14-15, 2023
TROMSO, NORWAY
Dear colleagues,
Join us at the EUSOBI Contrast-Enhanced Mammography (CEM) Course 2023 for an immersive and comprehensive two-day programme in Tromsø, Norway, a city known for its stunning winter landscapes and mesmerizing Northern Lights. This course offers a unique opportunity to enrich your understanding of CEM, an innovative and cost-effective technique in breast imaging.
Designed to meet the needs of professionals in the field, the programme seamlessly combines theoretical lectures with practical workshops, guided by a panel of leading European experts in CEM. You'll delve into the essentials of CEM and understand its diverse clinical applications.
The course offers a blend of scientific rigor and practical skill-building, shedding light on common artifacts, pitfalls, and errors, while providing practical experience in CEM. Don't miss this chance to learn from the experts, expand your professional skills, and effectively integrate this innovative technique into your practice.
The course directors of the EUSOBI CEM Course are looking forward to welcoming you!
Dr. Rodrigo Alcantara
Dr. Paola Clauser
Dr. Thiemo van Nijnatten
Directors of the EUSOBI CEM Course
Course description
The EUSOBI Contrast-Enhanced Mammography (CEM) Course 2023 is an intensive exploration of CEM as an innovative, sensitive, and cost-effective technique for breast imaging. This program is designed to offer a comprehensive understanding of CEM, combining theoretical lectures, expert-led discussions, and interactive workshops. It covers the essentials of CEM, from its fundamental physics and the use of iodine-based contrast agents to practical procedures and image interpretation. The course also highlights the challenges of artifacts, common pitfalls, and errors, along with insights into diverse clinical applications and CEM-guided interventions. Furthermore, it discusses the evolving role of AI and quantitative imaging in CEM, current research trends, and ongoing clinical trials. With limited enrollment, the course ensures ample opportunity for practical experience, fostering a solid understanding of CEM.
Educational outcome
Over the course of 2 days, experts in Contrast-Enhanced Mammography (CEM) will:
Provide up-to-date reviews on the use and technical foundations of CEM, including physics, iodine-based contrast agents, and image interpretation.
Deliver current information on quality assurance, common artifacts, pitfalls, and errors in CEM.
Highlight the varied clinical applications of CEM, from screening and follow-up to pre-operative staging and neoadjuvant chemotherapy.
Utilize interactive teaching, expert discussions, and problem-solving case presentations to enhance learning.
Facilitate workshops to foster practical skills and deepen participants' understanding of CEM.
This course aims to provide participants with comprehensive knowledge and practical skills in CEM, enabling them to effectively incorporate this technique into their practice.
Course directors
Dr. Rodrigo Alcantara
Dr. Paola Clauser
Dr. Thiemo van Nijnatten

Upcoming Course – FULLY BOOKED
DECEMBER 14-15, 2023
TROMSO, NORWAY
Course preliminary programme
The course preliminary programme is available for PDF download below.
Kindly note, the programme may still be subject to change.
Registration
The EUSOBI CEM Course 2023 is fully booked – therefore registration has closed. If you wish to be on the waiting list, please contact our Office.
Registration fees
| | | |
| --- | --- | --- |
| DEADLINES | EARLY (until Oct 31) | LATE (from Nov 1 onwards) |
| Regular registration | € 400.00 | € 500.00 |
| EUSOBI Member registration* | € 300.00 | € 400.00 |
| Resident registration** | € 240.00 | € 340.00 |
* Reduced member registration is available to all EUSOBI Members in good standing in 2023.
** Reduced resident registration is offered to residents (young radiologists in training). The age limit for a registration as a resident is set at 35 years (incl. the age of 35). Residents have to email a proof signed by their head of department, confirming their status as such within 5 working days after online registration. In case this confirmation is not received, the registration fee will be automatically adjusted to a regular fee.
REGISTRATION FEE FOR DELEGATES INCLUDES
admittance to all lectures & workshops
coffee & lunch breaks
digital educational syllabus provided after the course
certificate of attendance
Course limit
The EUSOBI CEM Course 2023 is limited to a maximum of 100 participants. Kindly note that some waiting list places are offered by emailing to office@eusobi.org. In case of any cancellations, only people from the waiting list could get the chance for a course place. Unpaid registrations may not be considered as finalised and places will be given to other interested participants.
Cancellation
In case of cancellation more than 30 days prior to the course, the registration fee will be refunded minus a cancellation handling fee of EUR 50,00 (refunds are processed after the course). A cancellation less than 30 days prior to the course will not result in a refund. Name changes are not possible and will be treated like the cancellation of the registration and a new registration of the other participant. All cancellations have to be done in writing and sent to the EUSOBI Office (office@eusobi.org).
Please note that no online nor on-demand access will be offered for this course
This Educational Course is supported by...
…an unrestricted educational grant from Bayer.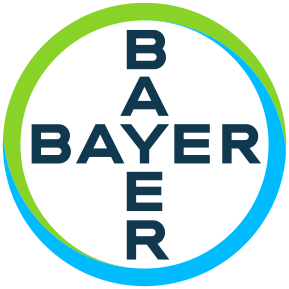 Contact
For any questions, please contact:
EUSOBI Office
Katharina Kienmeyer
Email: office@eusobi.org
Phone: +43 1 533 40 64 912