LRCB Breast Cancer Screening for Radiologists
The Dutch Expert Centre for Screening (LRCB) is a knowledge driven organization that aims for optimal medical and physico-technical quality of screening programmes. Our experts both supervise and contribute. The LRCB controls and optimizes screening programs and skills of professionals through knowledge  and training. In this way the LRCB continuously improves the quality of early detection and diagnosis, of breast cancer and tuberculosis.
The LRCB organises international courses in Breast Cancer Screening in cooperation with the EUSOBI.
During these highly interactive small-scale courses screening radiologists or radiologists with an interest in screening have the opportunity to update their knowledge and develop their mammography reading skills. Hands-on sessions play an important role, in which participants individually read screening examinations. Each reading session will be followed by an interactive discussion with the trainer and other participants. Guided by experts in the field of breast cancer screening, participants receive individual feedback on their reading skills during the course.
Furthermore, the programmes will incorporate a series of lectures by several experts in the field of radiology, pathology, breast positioning, epidemiology and physico-technical aspects of digital breast cancer screening.
The LRCB offers two different courses:
Breast Cancer Screening Course (POSTPONED to 2021)
Advanced Breast Cancer Screening (NOT offered in 2020)
Certification
At the end of both courses, the registered participants receive a certificate of attendance and 30 CME credits.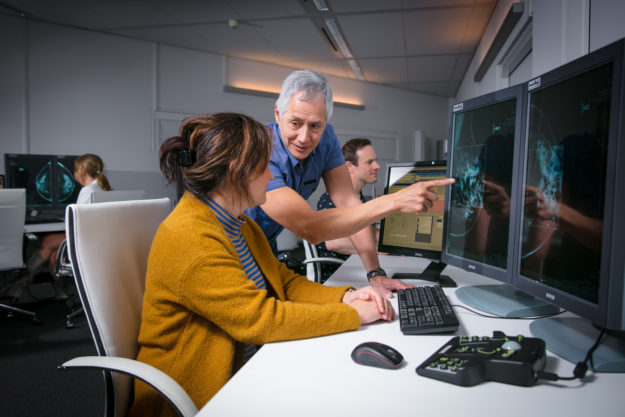 In view of the COVID-19 pandemic, the LRCB will have to adhere to various safety measures. We will first inform you about the general measures in the Netherlands, followed by additional measures that are specific to the LRCB. We would like to point out that the situation can change at any time. You can find up-to-date information on the website of Netherlands' government: government.nl/visit. We will keep you informed if there are any substantial changes.
General measures in the Netherlands
If you have symptoms (a stuffy or runny nose, sneezing, a sore throat, a mild cough, a sudden loss of smell or taste, a fever and shortness of breath), you have to stay at home.
Travellers arriving in the Netherlands from certain countries and regions are strongly advised to self-quarantine for 14 days.
Don't shake hands with others.
Stay 1.5 metres away from others.
Wash your hands, keep washing your hands regularly.
Sneeze and cough into your elbow.
Face masks must be worn on public transport, on coaches and in taxis.
Reservations are often required for hotels, restaurants, cafés and bars.
Additional measures at the LRCB
Use of hand sanitizer gel when entering our office is mandatory.
Pay close attention to the signs and arrows (walking direction) at our location.
Every participant has his/her own workstation (1.5 metres away from others).
The windows will be open for adequate ventilation.
For lunch there will be no buffet. Everyone gets their own packed lunch.
Please also use the toilets during lectures, to avoid crowds during breaks.
If the toilets are occupied, please wait in the corridor (near the stairs).
Follow the instructions of our staff.
We highly recommend to make your travel bookings (flight, hotel…) last minute OR choose refundable rates!
Breast Cancer Screening Course
POSTPONED TO 2021
Nijmegen, Netherlands
Currently no places available – apply for the waiting list
Entry requirements
You are a radiologist (screening, clinical, fellowship or resident) familiar with breast diagnostics.
You have less than 5 years of experience as a breast (screening) radiologist.
You are able to communicate in English.
Course aims
On completion of this course, participants are able to act as radiologist in a screening situation in such a way that they ensure the correct balance between detection, specificity and the associated efforts and costs.
Learning Objectives
To explain the procedures and state of affairs with regards to screening.
To decide whether a mammogram can be evaluated based on the positioning technique and (physico-technical) image quality.
To refer clients and assign BI-RADS status according to professional standards.
To name and understand the impact and added value of important developments in the field of breast cancer screening.
Advanced Breast Cancer Screening Course
SORRY, NO COURSE DATES IN 2020
Entry requirements
You are a radiologist familiar with breast diagnostics.
You have participated in the LRCB/ EUSOBI breast cancer screening course OR you have at least 5 years of experience in breast cancer screening.
You are able to communicate in English.
Course aims
We aim for participants to improve their screening performance, regarding detection and recall. The focus will be on hands-on training. A specific part of the hands-on training are the thematic training sets. These sets consist of difficult cases of one type of lesion, such as calcifications and architectural distortions. These will help the participant to gain more confidence in interpretation of these kind of lesions.
Learning Objectives
Interpretation of difficult cases, in order to improve screening performance and confidence in your decisions.
Practice on mammography reading with thematic training sets, in order to recognize patterns of typical lesions.
In-depth relevant knowledge such as positioning technique and physico-technical image quality and new developments in the field of breast cancer screening.
Course Fee
EUSOBI Member: € 1.250,00*
Non Member: € 1.350,00*
* Kindly note that the fee includes lunch for 5 days, but do not cover travel and accommodation expenses.
Registration
Registration for the Breast Cancer Screening Courses in October and November is closed due to all places are sold. In case you would like to apply for the waiting list, please complete the relevant application form and send it to office@eusobi.org. You will get informed in case of availability.
Course limit
To guarantee a safe situation in the LRCB training rooms, the maximum number of participants has been reduced to 10 for both courses. In case of insufficient registrations (less than 8), the LRCB has the right to cancel the course until 5 weeks prior to the course. Please keep this in mind for your travel arrangements. Kindly note that places are offered upon 'first-come, first-served basis'. If the course is fully booked, we will put your name on the waiting list and contact you in case of availability.
Cancellation
A cancellation less than 6 weeks prior to the course will not result in a refund.
The LRCB recommends the Mercure Hotel, which is located next to the railway station Nijmegen CS. From here, the LRCB is easily reached by public transport. The hotel is also within walking distance of the city centre.
Please click here for other hotels in Nijmegen.
Contact
Course, hotel and travel information:
Tanya Geertse, LRCB
t.geertse@lrcb.nl
P: +31 24 760 06 50
Information on registration:
Katharina Kienmeyer, EUSOBI Office
office@eusobi.org
P: +43 1 533 40 64 912